Trained Doctors & Competent Staff
Correct Diagnosis & Treatment
All Aesthetic Procedures Under One Roof
Exclusive Premium Clientage
Skin Specialist In Chandigarh, Zirakpur
Dr. Isha V. Mittal is a Gold Medalist in her field and is a leading Dermatologist , Cosmetologist , Laser specialist and hair transplant expert. Skin Specialist in Chandigarh, Zirakpur
She has done her Doctor of Medicine in Dermatology from Prestigious college Jawaharlal Nehru Medical College, Wardha Maharashtra.
She is well qualified, trained and certified in Clinical Dermatology, Dermatosurgery, Cosmetology, Hair transplant, LASERS and Permanent makeup. It is  a matter of pride that her  research & thesis   "Clinico-trichological correlation of Female androgenetic alopecia" got published in renowned journal – International Journal of Trichology " .
Are you struggling with skin issues Acne, Scars, Uneven Skin tone, Pigmentation, Infections, Allergies...
Jealous when you see somebody's thick dense hairs, Not happy with your thin hairs, Are you suffering from baldness...
Antiaging & Aesthetic Treatment
Do you wish to look younger, Confused what anti-aging treatments you should opt for...
Confused what laser treatment will suit your skin issues, You know about laser treatments but not sure about it...
Permanent Makeup
Do you have thin bows and always wished to have dense natural looking bows ...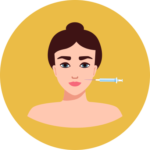 Dermatosurgery
Not happy with the scar, mole on your face or body?
Tarun Pal
Superb quality treatment! Affordable charge as well. I am highly satisfied with Dr. Isha Mittal's hair transplantation treatment. Now I feel happy and I look gorgeous in any outfit as my hair is beautiful. Thanks a lot! I would like to recommend this centre to my friends and relatives as well.

Neha Rana
My skin was very dull and I was quite unhappy with this. I was looking for an experienced dermatologist to pamper my skin. So I met Dr Esha Mittal. She is so friendly and her behaviour is so nice that you will love to meet her again and again. Her wonderful treatment has made my skin beautiful. Thanks, madam!
Uttam Tiwari
I was very upset due to my extreme hair loss problem. But suddenly I got the name of this centre and met Dr Esha Mittal. From the first sitting, madam has made me confident that I will come back my lost hair and finally I have got. She is the great dermatologist I have ever met!
Akshata Verma
It was an awesome experience I must say Dr. Isha Mittal has made my damaged skin so glowing and smooth that my 2 years old daughter also loves to touch my cheeks now. I am highly satisfied with her treatment. Thanks a lot, madam. You are really a blessing to me.
Sidhharth Bhardwaaj
Words are not enough to describe her uniqueness.. So all i want to submerge in one line that she can provide you and guide you the way towards beauty without any flaws.. God bless her. Best dermatologist you will ever met and that's for sure..!!
VISHNU PRIYA
She is the Best Dermatologist in zirakpur. I had severe issues with my skin and hair, She treated me so well just like a family member as skin and hair treatments take time and we need to trust the Doctor and I believed in her with faith and now I am very happy as my skin and hair looks much younger than ever before. Thanks Dr Isha very very much for making my marriage a glowing event for me🙏
Rakesh Verma
Skin care was excellent by Dr. Esha Mittal. She is the best skin doctor in zirakpur. The procedure and treatment were good. My family is extremely happy with the care provided. We would recommend it highly. Thanks a lot for helping us overcome our problems.